Fruit and veg: For a longer life
Eating loads of fruit and vegetables – 10 portions a day – may give us longer lives, say researchers. The study, by Imperial College London, calculated such eating habits could prevent 7.8 million premature deaths each year. The team also identified specific fruit and veg that reduced the risk of cancer and heart disease. The analysis showed even small amounts had a health boon, but more is even better.
A portion counts as 80g (3oz) of fruit or veg – the equivalent of a small banana, a pear or three heaped tablespoons of spinach or peas.
The conclusions were made by pooling data on 95 separate studies, involving two million people's eating habits.
Lower risks of cancer were linked to eating:
green veg (eg spinach)
yellow veg (eg peppers)
cruciferous vegetables (eg cauliflower)
Lower risks of heart disease and strokes were linked to eating:
apples
pears
citrus fruits
salads
green leafy vegetables (eg lettuce)
cruciferous veg
Compared with eating no fruit or veg a day, it showed:
200g cut the risk of cardiovascular disease by 13% while 800g cut the risk by 28%
200g cut the risk of cancer by 4%, while 800g cut the risk by 13%
200g cut the risk of a premature death by 15%, while 800g cut the risk by 31%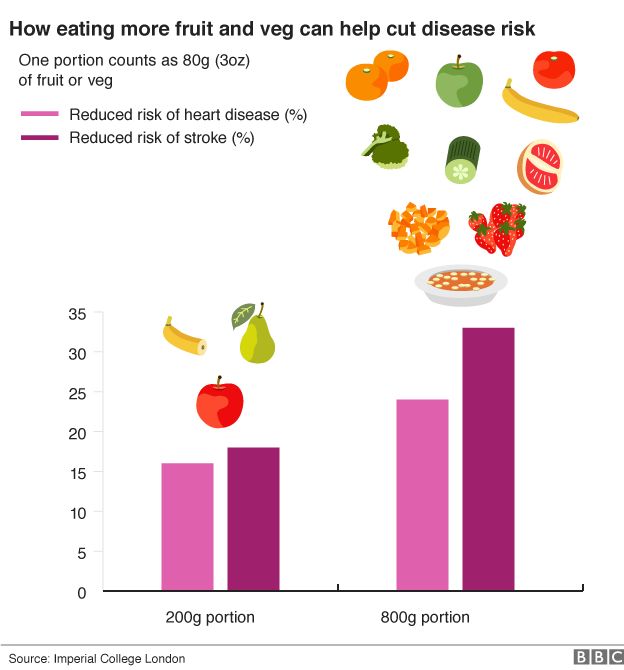 The researchers do not know if eating even more fruit and veg would have even greater health benefits as there is little evidence out there to review. Dr Dagfinn Aune, one of the researchers, said: "Fruit and vegetables have been shown to reduce cholesterol levels, blood pressure, and to boost the health of our blood vessels and immune system. "This may be due to the complex network of nutrients they hold. "For instance, they contain many antioxidants, which may reduce DNA damage and lead to a reduction in cancer risk."
However, many people struggle to even eat the five a day (400g) recommended by the World Health Organization. In the UK, only about one in three people eats enough.
This article was compiled from a BBC article for Dr. David Jensen
©2021 Dr. David Jensen Chiropractor, El Jebel / Carbondale | Glenwood Springs | Aspen
WIN Health Institute, LLC - Dr. David Jensen, Chiropractor. Technical support provided by
Intend.media