THERAGUN SURPASSES 100 PRO TEAMS
Home
»
THERAGUN SURPASSES 100 PRO TEAMS

Check With Dr. Dave for Details!
THERAGUN SURPASSES 100 PRO TEAMS
TheraGun recently went over 100 professional sports teams as customers across all the major sports leagues in the US – including the NFL, NBA, NHL, MLB, MLS, NASCAR, IndyCar and more.
---
So, if you haven't experienced the TheraGun G1, why not make it happen today? With a 90-Day Money Back Guarantee if you are not 100% satisfied the power is in your hands. Seize the day!
2017 Pro Bowler: Kyle Juszczyk, Fullback, Baltimore Ravens
"The TheraGun G1 was huge in my pre-practice and pre-game preparation this season. So much of your performance is based on your preparation and the TheraGun G1 gave me my best preparation before practice and games."
---
TheraGun partnered with ESPN to set-up our DoJo inside the Athlete Lounge of Winter X Games 2017, and the results were tremendous! The TheraGun G1 was featured on ESPN with Jack Mitrani leading into SportsCenter, the two athletes taking the G1 home the night before competition won Gold & Silver, and over dozen of them purchased G1s!
---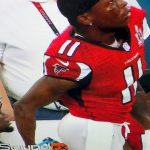 Super Bowl LI was one for the ages, there is no doubt about that! But even more exciting for us was seeing players from both teams using the G1 on the sidelines, including Julio Jones – seen here keeping his hamstrings loose. This season we eclipsed over 20 NFL teams as TheraGun customers including over 100 players purchasing the G1 individually to build into their routines.
You owe it to yourself, your practice and your clients to use this tool!  Go to the Theragun website NOW!
©2021 Dr. David Jensen Chiropractor, El Jebel / Carbondale | Glenwood Springs | Aspen
WIN Health Institute, LLC - Dr. David Jensen, Chiropractor. Technical support provided by
Intend.media