WIN Health Note: Ozone Pollution is a growing problem in Colorado, since the entire state is blanketed with energy development.  AIRNOW.Gov  is a great resource for you to use to monitor this dangerous situation.
Who is at risk?
People most at risk from breathing air containing ozone include people with asthma, children, older adults, and people who are active outdoors, especially outdoor workers.  In addition, people with certain genetic characteristics, and people with reduced intake of certain nutrients, such as vitamins C and E, are at greater risk from ozone exposure
The effect of dalfampridine on labor and delivery in humans is unknown. The absolute bioavailability of Ceftibuten Oral Suspension has not been determined. Clinical trials have shown encouraging results regarding the application of canakinumab in the treatment of gout arthritis [18–22], RA [23,24], and type 2 diabetes mellitus [25–28] Farmacia sin receta. Make a point to exercise five days a week for at least 30 minutes each day.
Children are at greatest risk from exposure to ozone because their lungs are still developing and they are more likely to be active outdoors when ozone levels are high, which increases their exposure.  Children are also more likely than adults to have asthma.
What health problems can ozone cause?
Ozone can cause the muscles in the airways to constrict, trapping air in the alveoli. This leads to wheezing and shortness of breath.
Ozone can:
Make it more difficult to breathe deeply and vigorously.
Cause shortness of breath, and pain when taking a deep breath.
Cause coughing and sore or scratchy throat.
Inflame and damage the airways.
Aggravate lung diseases such as asthma, emphysema, and chronic bronchitis.
Increase the frequency of asthma attacks.
Make the lungs more susceptible to infection.
Continue to damage the lungs even when the symptoms have disappeared.
chronic obstructive pulmonary disease (COPD).
These effects have been found even in healthy people, but can be more serious in people with lung diseases such as asthma. They may lead to increased school absences, medication use, visits to doctors and emergency rooms, and hospital admissions.
Long-term exposure to ozone is linked to aggravation of asthma, and is likely to be one of the many causes of asthma development.  Long-term exposures to higher concentrations of ozone may also be linked to permanent lung damage, such as abnormal lung development in children.
Recent studies consistently report associations between short-term exposures and totao non-accidental mortality, which includes deaths from respiratory causes. Studies suggest that long-term exposure to ozone also may increase the risk of death from respiratory causes, but the evidence is not as strong as the evidence for short-term exposure.
How can I reduce these health risks?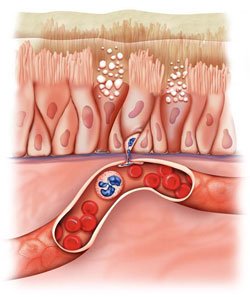 With inflammation, the airway lining is damaged. It has been compared to the skin inflammation caused by sunburn.
The AirNow Web site provides daily air quality reports for many areas. These reports use the Air Quality Index (or AQI) to tell you how clean or polluted the air is.
EnviroFlash, a free service, can alert you via email when your local air quality is a concern. Sign up at www.enviroflash.info.
If you want to get more information about Ozone, the EPA has web pages that discuss this issue in great detail.
This article is a condensation of a web page developed by the EPA, and is presented here for your information by Dr. David Jensen
Tags: Breathing Difficulties, COPD, Heart Problems, Ozone
©2021 Dr. David Jensen Chiropractor, El Jebel / Carbondale | Glenwood Springs | Aspen
WIN Health Institute, LLC - Dr. David Jensen, Chiropractor. Technical support provided by
Intend.media