Corrective Exercise – Got Feet?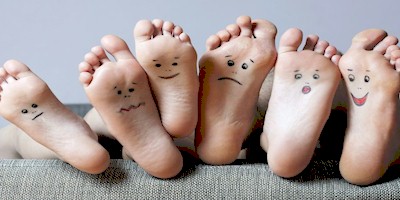 This is my second article in a series about the benefits of corrective exercise. In this discussion, we will attempt to expose a few of the common issues that my clients deal with along with plausible solutions. I think that many foot/calf issues come from our "adultish" habits of bad footwear, fake floor surfaces and sitting. Many symptoms like plantar fasciitis, neuromas, fallen arches, gout and cramping can be eliminated by taking on some good foot habits. You can avoid many of these...
What IS Corrective Exercise?
The fitness industry has come up with many innovations over the decades. Cutting-edge fitness experts like Jane Fonda and Richard Simmons have continually blessed us with their genius. Chuck Norris has even agreed to help with his electrifying brand of fitness excitement. From the ThighMaster to the vibrating washing machine thing with the belt wrapped around your gut, the fitness industry has been entertaining and perhaps a little embarrassing. Silly fads come and go, but several "fitness...
Avoiding Back Surgery
Say No to the Knife: Reduce the Likeliness Of Surgery With Chiropractic Care (NewsUSA) – Throughout the years, chronic back pain sufferers haven't had much in the way of options to relieve their pain. Aside from drug therapy, surgery was often it — leading many who understandably wanted to avoid an invasive approach to search for an alternative. Now, many patients are saying they've found that relief through chiropractic care. To learn more, visit...
Copyright (c) 2018 Dr. David Jensen Chiropractor, El Jebel / Carbondale | Glenwood Springs | Aspen
WIN Health Institute, LLC - Dr. David Jensen, Chiropractor. Technical support provided by Larry Heinrichs 970-456-0010